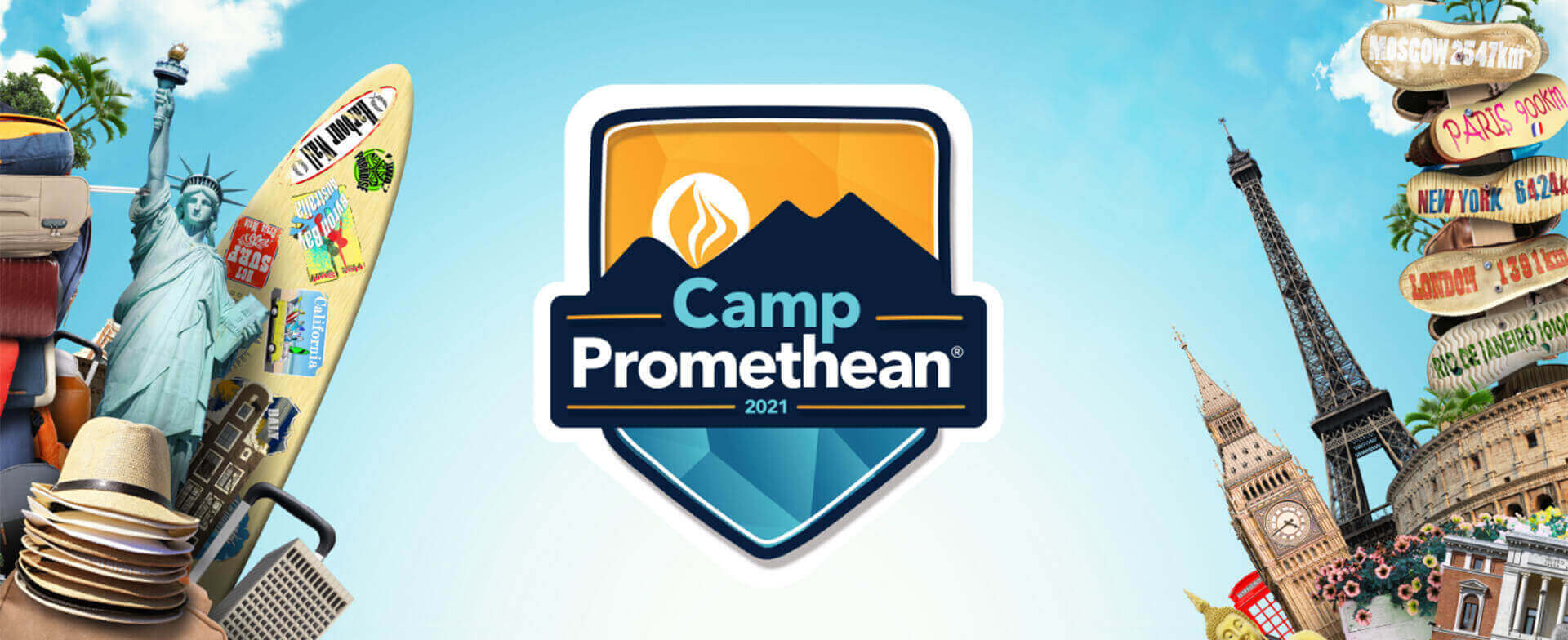 Welcome to Camp Promethean
Camp is now closed – see you back in 2022!
Join us for an engaging, fun-filled day of virtual professional development at Camp Promethean on July 16th!
Our knowledgeable team of Education Consultants are offering a wide range of virtual courses designed to help you best utilize Promethean tools in your classroom in relevant, cutting-edge ways. All sessions are free and you can customize your training day by registering for the sessions that fit your professional growth. You will receive a certificate for each session that you attend as well as a Camp Promthean badge to showcase you attending Camp Promethean 2021.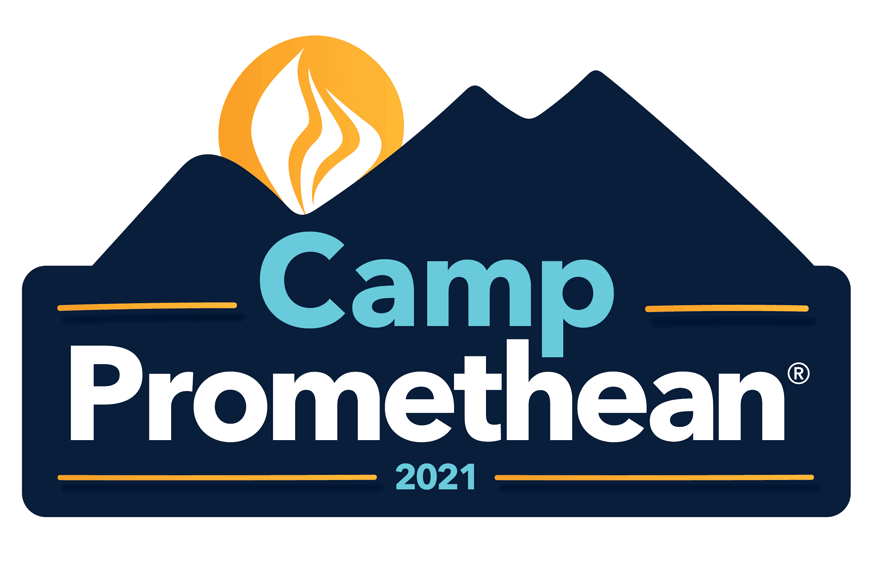 Browse the schedule below and register for your desired sessions by the hour. Reserve your spots today.
Register now to save your spot at Camp Promethean.
Your Guide to Camp Promethean (PDF Download)
| Time | ActivInspire | ClassFlow | Classroom Essential | Orientations / Admin | Remote & Hybrid |
| --- | --- | --- | --- | --- | --- |
| 9:00 – 10:00 EDT | Intro to ActivInspire | Intro to ClassFlow | Intro to Classroom Essential Apps | Intro to the Elements Series from the Promethean Live Studio | STEM |
| | Grab your compass and join the expedition to learn your way around our beloved lesson delivery software, ActivInspire. We'll cover the basics and get you up and running! This session is suitable for beginner ActivInspire users. Register | We'll help you set up your tent and get your bearings around the site — the ClassFlow website, that is! Come learn the interactivity and key features of our beloved lesson delivery software, ClassFlow. This session is suitable for beginner ClassFlow users. Register | Consider Promethean's Classroom Essential Apps your new Swiss Army knife. Explore the countless built-in tools within your ActivPanel like Annotate, Spinner, Timer, and Whiteboard, to name a few. Learn tips and best practices to engage students of any grade level or content area. This session is suitable for all levels. Register | Learn how to navigate your new Elements Series ActivPanel. In this session we will explore the Unified Menu and demonstrate tips to help you to quickly start engaging your students. This session is suitable for all levels. Register | Harness the wonder of stargazing and learn how Promethean solutions can help make your STEM content out of this world! This session is suitable for all levels. Register |
| 10:00 – 11:00 EDT | ActivInspire: Inserting Resources and Media | ClassFlow: Creating Activities | Classroom Essential Apps: Lower Elementary | Intro to the Elements Series from the Promethean Live Studio | Integrating Google |
| | Media, PDFs, Activities, and Shared Resources are the marshmallows and chocolate to your ActivInspire flipcharts' graham crackers. Learn how to easily add them to enhance your lessons! This session is suitable for beginner and intermediate ActivInspire users. Register | Ditch the macaroni and popsicle sticks and learn how to build and deliver engaging ClassFlow activities your students will love! Truly something for all grade levels and content areas. This session is suitable for all levels. Register | Explore the dynamic, built-in Promethean Classroom Essential Apps, including Annotate, Spinner, Timer, and Whiteboard. Learn tips and best practices to engage your little campers using your ActivPanel. This session is suitable for all levels. Register | Learn how to navigate your new Elements Series ActivPanel. In this session we will explore the Unified Menu and demonstrate tips to help you to quickly start engaging your students. This session is suitable for all levels. Register | New friendships are exciting! Come learn how Google and Promethean can play together within your classroom. This session will focus on the Elements Series ActivPanels and is suitable for beginner and intermediate users. Register |
| 11:00 – 12:00 EDT | ActivInspire: Tips & Tricks for Interactive Lessons | ClassFlow: Polling | Classroom Essential Apps: Upper Elementary | Off to a Good Start | Selecting Quality Educational Apps |
| | Ready for the big fireworks display? Learn quick and easy ways to make your content even more interactive with ActivInspire showstoppers like Rub & Reveal, Magic Ink, Drag a Copy, and more. This session is suitable for all levels. Register | Cannonball into one of ClassFlow's signature features — polling! Learn how to connect student devices, utilize different poll types, and interact with poll results in real time. This session is suitable for all levels. Register | Explore the dynamic, built-in Promethean Classroom Essential Apps, including Annotate, Spinner, Timer, and Whiteboard. Learn tips and best practices to engage your big campers using your ActivPanel. This session is suitable for all levels. Register | Your new Promethean solution is the ultimate talent show! Come learn a variety of ways to engage your students with tools like the Elements Series ActivPanel, Promethean Classroom Essential Apps, ActivInspire, and ClassFlow polling. This session is suitable for beginners. Register | Finding the perfect app needn't be like trying to locate that buzzing mosquito in your tent. Let us show you how to find fun, engaging educational apps of high quality on your Elements Series ActivPanel and through connected devices. This session is suitable for all levels. Register |
| 12:00 – 1:00 EDT | ActivInspire: Built-In Tools | ClassFlow: Creating Lessons | Classroom Essential Apps: Math and Science | | Remote Learning |
| | Math tools, Activities, Tickertape, Spotlight, and Revealer are some of ActivInspire users' favorites. Just as it's good to have a first aid kit on hand, you'll want these in your back pocket! This session is suitable for intermediate and advanced ActivInspire users. Register | Prepare to blaze your own trail! Learn your way around ClassFlow's Lesson Builder to create original, dynamic lessons. This session is suitable for intermediate and advanced ClassFlow users. Register | Grab your binoculars and peer into the exciting world of the built-in Promethean Classroom Essential Apps, including Annotate, Spinner, Timer, and Whiteboard. Learn tips and best practices to engage students of any grade level using your ActivPanel. This session is suitable for all levels. Register | | Join us as a remote learner in our classroom where we will show you our hybrid learning setup as well as tips on how to best use the Promethean panel in a hybrid environment. This session is suitable of all levels. Register |
| 1:00 – 2:00 EDT | ActivInspire: Build-A-Lesson | ClassFlow: Marketplace & Using Existing Resources | Classroom Essential Apps: Language Arts and Social Studies | Leading the Technology Journey | Virtual Field Trips |
| | It is time for camp crafts, the digital way. Use your ActivInspire tools to build-your-own interactive lessons with the guidance of a Promethean camp counselor. This session is suitable for intermediate and advanced ActivInspire users. Register | Reach into your well-stocked backpack of existing instructional resources like flipcharts, PDFs, PowerPoints, images, and more, and learn how to easily use them in ClassFlow. This session is suitable for beginner and intermediate ClassFlow users. Register | Take map-reading and campfire storytelling to new levels with the built-in Promethean Classroom Essential Apps, including Annotate, Spinner, Timer, and Whiteboard. Learn tips and best practices to engage students of any grade level using your ActivPanel. This session is suitable for all levels. Register | Are you ready for "S'more"? Gather around the campfire and learn about how your Promethean ActivPanel can be used in the classroom, with teacher and student devices, and our award-winning software options. This session is suitable for administrators. Register | Our fun isn't limited to a single campground! Grab your backpack and let's learn how to integrate engaging virtual travel into your existing curriculum using Promethean tools. This session is suitable for all levels. Register |
| 2:00 – 3:00 EDT | ActivInspire: Dashboard | ClassFlow: Differentiated Instruction | Classroom Essential Apps: Creating Whiteboard Activities | Supporting Classroom Technology | Blended Learning |
| | Discover the wonders of the ActivInspire Dashboard. Find already created resources in the Resource Library and see how you can add your own personal spin to them by editing the content and adding activities. Personalize pre-made content to fit your classrooms needs! This session is suitable for all users. Register | It turns out the campers are hiking up the mountain at various paces! Let us show you practical, effortless ways ClassFlow can differentiate for all of your students' needs and gather valuable formative feedback. This session is suitable for all levels. Register | Creating quick and engaging activities with the Promethean Whiteboard App is easier than learning your bunk mate's card trick. Perfect for warm-ups, multiple users, stations, and more. This session is suitable for all users. Register | Don't let technology in your building be a scavenger hunt. Learn managable ways you can help teachers implement technology both in and out of their classrooms, as well as model technology usage with your staff. This session is suitable for administrators. Register | No need to play tug-of-war! Let us help you use Promethean tools to shift your classroom from teacher-centered to student-centered. This session is suitable for intermediate and advanced users. Register |
| 3:00 – 4:00 EDT | ActivInspire: Intermediate | ClassFlow: Creating Lessons | Classroom Essential Apps: Middle and High School | Admin: Supporting Your Teachers | Casting/Mirroring with Mobile Devices |
| | Now that you have the basics of ActivInspire, are you ready to level-up your skills? Join us around the camp fire to learn more about engaging your students with ActivInspire. This session is suitable for intermediate and advanced ActivInspire users. Register | Prepare to blaze your own trail! Learn your way around ClassFlow's Lesson Builder to create original, dynamic lessons. This session is suitable for intermediate and advanced ClassFlow users. Register | Your Promethean ActivPanels are installed, your teachers are excited – now what? Come learn about how to continue to support teachers with their new Promethean technology. This session is suitable for administrators. Register | Your students likely spent the past year using a range of devices to learn remotely. What do you do with these devices once they're back at the campground (your classroom)? Learn helpful ways to use both teacher and student devices for polling, mirroring, and more with your Elements Series ActivPanel. This session is suitable for all levels. Register | Your students likely spent the spring months using a range of devices to learn remotely. What do you do with these devices once they're back at the campground (your classroom)? Learn helpful ways to use both teacher and student devices for polling, mirroring, and more with your Elements Series ActivPanel. This session is suitable for all levels. Register |
| 4:00 – 5:00 EDT | Intro to ActivInspire | Intro to ClassFlow | Intro to the Classroom Essential App Suite | Elements Series for Administrators | STEAM |
| | Grab your compass and join the expedition to learn your way around our beloved lesson delivery software, ActivInspire. We'll cover the basics and get you up and running! This session is suitable for beginner ActivInspire users. Register | We'll help you set up your tent and get your bearings around the site — the ClassFlow website, that is! Come learn the interactivity and key features of our beloved lesson delivery software, ClassFlow. This session is suitable for beginner ClassFlow users. Register | Consider Promethean's Classroom Essential Apps your new Swiss Army knife. Explore the countless built-in tools within your ActivPanel like Annotate, Spinner, Timer, and Whiteboard, to name a few. Learn tips and best practices to engage students of any grade level or content area. This session is suitable for all levels. Register | Your educators now have Elements Series ActivPanels installed… super! Let us give you an overview of a digital-rich classroom and panel management, providing you with examples of ways your teachers can implement this exciting new technology. This session is suitable for administrators. Register | Time to get crafty! Are you ready to learn how you can incorporate digital building blocks or bricks into your STEAM lessons with your Promethean ActivPanel? This session is suitable for all levels. Register |
| 5:00 – 6:00 EDT | ActivInspire: Tips & Tricks for Interactive Lessons | ClassFlow: Creating Activities | Classroom Essential Apps: World Languages | Intro to the Elements Series from the Promethean Live Studio | Sketchnoting with Your ActivPanel |
| | Ready for the big fireworks display? Learn quick and easy ways to make your content even more interactive with ActivInspire showstoppers like Rub & Reveal, Magic Ink, Drag a Copy, and more. This session is suitable for all levels. Register | Ditch the macaroni and popsicle sticks and learn how to build and deliver engaging ClassFlow activities your students will love! Truly something for all grade levels and content areas. This session is suitable for all levels. Register | Toss a pocket dictionary into your backpack and travel into the world of built-in Promethean Classroom Essential Apps, including Annotate, Spinner, Timer, and Whiteboard. Learn tips and best practices for using your ActivPanel engagingly and effectively for world language students. This session is suitable for all levels. Register | Learn how to navigate your new Elements Series ActivPanel. In this session we will explore the Unified Menu and demonstrate tips to help you to quickly start engaging your students. This session is suitable for all levels. Register | You needn't be an expert cartographer to enjoy the cognitive benefits and fun of sketchnoting! Let us show you strategies, helpful resources, and plenty of engaging classroom examples of sketchnoting with your ActivPanel. This session is suitable for all levels. Register |
| 6:00 – 7:00 EDT | ActivInspire: Objects and Actions | ClassFlow: Polling | Classroom Essential Apps: Music and Arts | Into to the Elements Series from the Promethean Live Studio | |
| | Dear Mom and Dad, today we applied actions to objects in our ActivInspire flipcharts and it was the coolest ever! It's super easy and you can use it to make awesome activities for just about anything. I can't wait to show you! This session is suitable for intermediate and advanced ActivInspire users. Register | Cannonball into one of ClassFlow's signature features — polling! Learn how to connect student devices, utilize different poll types, and interact with poll results in real time. This session is suitable for all levels. Register | Take sing-a-longs and camp productions to new levels with the built-in Promethean Classroom Essential Apps, including Annotate, Spinner, Timer, and Whiteboard. Learn tips and best practices for using your ActivPanel engagingly and effectively for music and art students. This session is suitable for all levels. Register | Learn how to navigate your new Elements Series ActivPanel. In this session we will explore the Unified Menu and demonstrate tips to help you to quickly start engaging your students. This session is suitable for all levels. Register | |