Virtual Interviews
Before your interview
A member of Promethean's recruiting team will reach out to you and request your availability to schedule your interview loop. Please note that this process can take up to a few days to confirm interview times with the interviewers. We appreciate your patience!
Once your interview loop has been confirmed, your recruiting contact will send you a confirmation email containing the details of your virtual interview, including a link to join your meeting.
For certain roles, you may be asked to sign the Non-Disclosure Agreement (NDA) before your interviews begin.
Prepare your virtual meeting technology
Promethean typically uses Microsoft Teams for our virtual interviews, but we will notify you ahead of time if another conferencing software will be used.

Ensure you have the Microsoft Teams application downloaded onto your computer or that you are using a browser that fully supports Microsoft Teams. We recommend Microsoft Edge or Google Chrome. Please note that if your browser is not fully updated, Microsoft Teams may not have full functionality.

Test if Microsoft Teams works on your computer. If either your microphone or camera is not functioning, please ensure your computer has granted permission for Microsoft Teams to access these items in your computer's settings.

You can join, leave, and rejoin a Microsoft Teams meeting anytime, so we encourage you to enter the meeting the day before your interview to ensure Microsoft Teams is working on your device.

Please turn your camera and microphone on prior to joining your interview.

If you encounter any technical issues during your virtual interview, please reach out to your recruiting contact for assistance.

You may also call in to your Microsoft Teams interview with your mobile device using the toll-free number provided in your interview invitation. Please note that joining a meeting room this way will allow for audio communication only.
Joining the meeting
You will be sent a confirmation email for your interview. The email will contain a link that will look like the following image…

Click the "Click here to join the meeting" link. You will be given the option to enter the meeting using your browser or the Microsoft Teams desktop app. (If you choose to use the app and you're experiencing issues, we recommend you use the browser.) If you choose to use your browser, please ensure that you are using a browser that fully supports Microsoft Teams, such as Google Chrome or Microsoft Edge.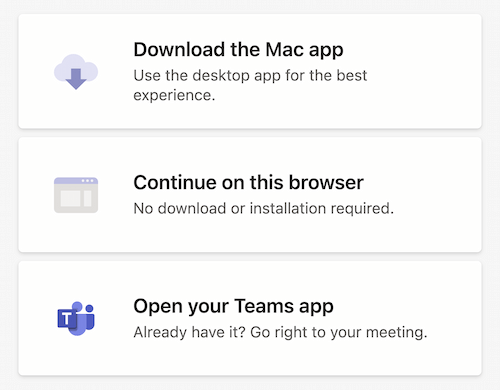 Microsoft Teams may request to access your microphone and webcam. Please allow Microsoft Teams to do so and confirm your microphone and webcam are turned on. Finally, enter your name, and then press the "Join now" button.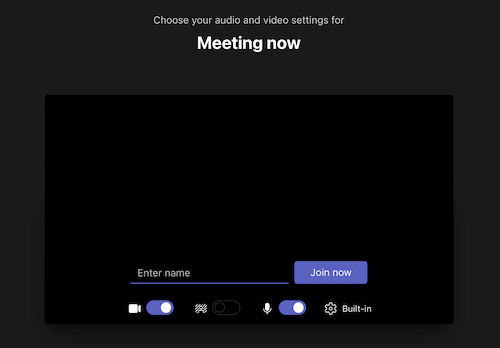 If you are asked to share your screen for a practical assessment, please click the "Open share tray" icon.

Select your screen below and follow the prompts to begin presenting to the interview panel.