Learning Beyond the Classroom: A Hybrid Primer
New and still-evolving health and safety guidelines for schools require teachers, administrators, and IT directors to quickly transform educational settings to adapt to a new normal. While solutions may vary from school to school, the goal will be the same: to provide the same quality of education for millions of students despite unprecedented circumstances.
To ensure learning continues for students, teachers will be required to reimagine the classroom, with technology that delivers lessons simultaneously, in real time, for both students who attend class in person, and for those connected remotely using their devices.
Download the complete guide to the Promethean hybrid classroom
To learn more about the Promethean hybrid classroom, fill out the form for a live demo.
Six elements of the hybrid classroom
ACTIVPANEL ELEMENTS SERIES
Promethean's interactive panel helps teachers deliver more dynamic and interactive lessons and content. Lessons for students can be placed in any cloud-sharing platform, where students can easily access them from home.
COMPUTER
Promethean offers Chrome OS, Android, and Windows compatibility, so schools can choose the computer operating system that works best for their IT ecosystem.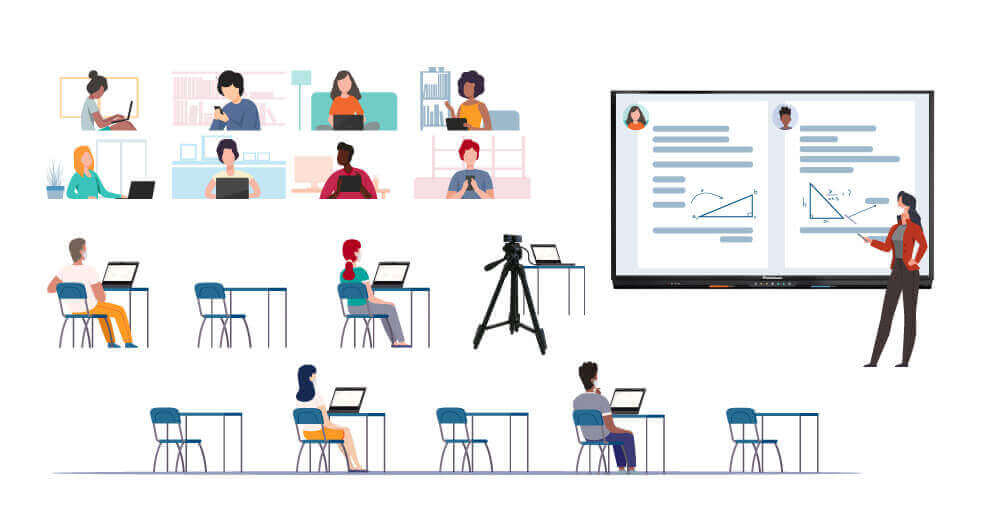 MULTI-DEVICE MIRRORING
Promethean's Screen Share application within the ActivPanel Elements Series allows you to duplicate and control student devices and collaborate from anywhere.
INTERNET CONNECTION
A high-speed Internet connection is essential to ensure that the Screen Share collaboration and video conferencing tools work smoothly.
DISTANCE LEARNING BUNDLE
The bundle includes a webcam, a tripod to mount it on, and a cable to connect to a laptop. Point the camera toward the teacher and their interactive panel, then connect to remote learners using any conferencing app.
VIDEO CONFERENCE SOFTWARE
Use videoconference software with robust security settings that enables communication from any device. Promethean is compatible with all of them.
Want to see a live demo?
During this live demo we learn about your requirements, answer your questions, and tour the features and functionality of our ActivPanel Elements series. You'll learn how the Promethean solution inspires collaboration, ease of instruction, student engagement, and creates a love of learning in any setting.