STEAM Forward 2022
November 8
@
1:00 pm
–
8:00 pm
EST
From hybrid learning to augmented reality, teaching STEAM is evolving rapidly. STEAM Forward is an online conference that brings together innovative thinkers, bold creativity, and the latest trends in edtech, with virtual sessions on hybrid/remote teaching, technology integration, STEAM best practices, hands-on STEAM applications, and more.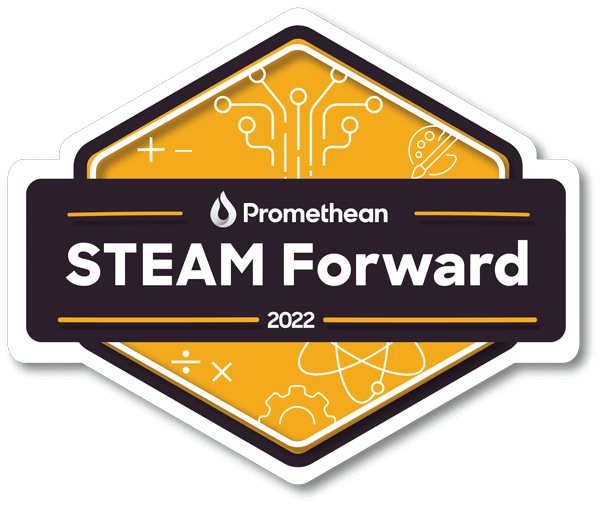 STEAM Forward sessions coming soon
All session times are in EDT
1:00 – 1:30
STEAM Forward Kick-off
Join us live from the Promethean STEAM Lab as we kick off and celebrate our fifth anniversary of STEAM Forward!
1:30 – 2:00
A Colorful Chemical Reaction
Presenter: Noel Tierney
Session Description: Given specific colors and general direction how can we let young children do some fun chemical reactions? Let's infuse the scientific method and get some inquiry based questions to find out what this reaction is: CH3COOH+NaHCO3 = FUN
Science, Art, Math
1:30 – 2:00
Intro to Coding with your ActivPanel
Presenter: Caiti Jones
Session Description: Learn how to use Promethean tools (whiteboard, annotate, capture) with basic coding activities.
Engineering
1:30 – 2:00
Sketchnoting With Students
Presenter: Caiti Jones
Session Description: Sketchnoting is not just for the artistic! We will explore the brain science behind sketchnoting as an effective classroom strategy, how to overcome fear of drawing in front of others, and how to get started. Promethean products that make implementing sketchnoting a breeze will be shared, as well as numerous other resources.
Science, Technology, Engineering, Arts, Math
1:30 – 2:00
STEAM in the ELA Classroom: Project Based Learning
Presenter: Caylie Converso
Session Description: Have your students apply real world knowledge and skills through the incorporation of STEM and project based learning in their Language Arts classroom. What better way to dive into a text than through real life connections.
Science, Technology, Engineering, Arts, Math
2:00 – 2:30
Anatomy with ActivInspire
Presenter: Xan Roberti
Session Description: Explore different tools in AI that can help you teach parts of the body. This will appeal to teachers of life science, bio, and physical education.
Science
2:00 – 2:30
Creating Engaging Math Lessons in the Whiteboard App
Presenter: Kristen Spruill
Session Description: This session will demonstrate how to harness the power of the whiteboard to create engaging Math centered activities for all ages. We will look at several premade activities and then explore the process for their creation.
Math
2:00 – 2:30
Dissections with the ActivPanel
Presenter: Charlie Locke
Session Description: Dissections in a Promethean classroom have never been cleaner! Learn how to display a dissection using cameras, your Promethean ActivPanel, and classroom essential apps.
Science
2:00 – 2:30
Digital Citizenship, 21st Century Skills & More!
Presenter: Melissa Luck
Session Description: An exploration of 3 components of our modern world: 1. Digital Citizenship, 21st Century Skills and more!
Technology
2:30 – 3:00
The Planetary Times – Researching Planets Activities
Presenter: Haroon Rashed
Session Description: This session will highlight ClassFlow Polling and Activities as participants will review our solar system as an interplanetary news reporter. This session will demonstrate how teachers can utilize ClassFlow Polling and ClassFlow Activities to enhance student engagement as they report facts, interesting details and newsworthy data about their assigned planets.
Science
2:30 – 3:00
The ART of ENGINEERING
Presenter: Sonya Gates
Session Description: Have you ever looked at a bridge, a building, or even Stonehenge as works of art? Did you ever think that an engineer could also be an artist? Both artists and engineers apply the same design principle of balance to achieve marvels that withstand the test of time. But, is balance the same as symmetry? Let's investigate the concepts of balance and symmetry in engineering using the Promethean Classroom Essential Apps on the Promethean ActivPanel.
Engineering, Arts, Math
2:30 – 3:00
Was Shakespeare a Scientist? Astronomy and the Bard
Presenter: Hollee Ellis
Session Description: The session will explore the influence of the science of Astronomy on the writing of William Shakespeare. Participants will analyze the use of Astronomical references in Shakespeare's writing and it's affect on the context. Finally participants will explore a VR scene from Hamlet that demonstrates the Bard's fascination with Astronomy at the beginning of the Scientific Revolution.
Science, Arts
2:30 – 3:00
Projects, Competitions, and Fairs, Oh My!
Presenter: Lacy Dasch
Session Description: Want to bring STEAM into your classroom but not sure where to start? In this session, you will be introduced to websites and projects that can help you with small scale ideas as well as national challenges. These are great opportunities for your students that require very little on your part because they are nationally organized and judged . Use this for a science class or for cross curricular collaboration.
Science, Technology, Engineering, Arts, Math
3:00 – 3:30
Live from the Promethean STEAM Lab
Join us for a fun, engaging experience from the Promethean STEAM Lab!
3:30 – 4:00
Fractions with Pattern Blocks
Presenter: Amy Tice
Session Description: Sometimes students can struggle with fractions. Let's use ActivInspire to show how using pattern blocks can create an interactive, hands on opportunity for students to get a hands on experience with fractions.
Math
3:30 – 4:00
Presenter: Lindsay Drager
Session Description: Work your way through solving a digital escape room! Once you've escaped, you will unlock several different resources for creating your own escape room.
Technology
3:30 – 4:00
RAFTing in the River of VR
Presenter: Molly-Armine Holston
Session Description: Grab your life jacket and your ore as we explore the ways that virtual reality headsets can be leveraged to create a dynamic, cross curricular opportunity that the whole class can experience. This session will dive into the ways the Oculus VR headset can be leveraged and integrated in collaboration with the Promethean ActivPanel. It will incorporate Classroom Essential Apps including, Spinner, Timer, Whiteboard, Annotate, Capture, and Screen Share.
Technology
3:30 – 4:00
Tower Challenge
Presenter: Elizabeth Litt
Session Description: Challenge your students to collaborate, think critically, and engineer the tallest tower with limited materials. This session will review the materials needed, an optional script to challenge students further, and general outcome and follow up of the challenge.
Engineering
4:00 – 4:30
Bee Pollination
Presenter: Rebecca Coldwell
Session Description: ActivInspire lesson on Pollination, specifically with bees and flowers.
Science
4:00 – 4:30
Google in the STEAM Classroom
Presenter: Laura Pappas
Session Description: Explore some of Google's STEAMiest sites/apps and how they can be used on your Promethean panel to build excitement and ignite learning. Also learn how to add these sites to the Application Locker for easy access!
Science, Technology, Arts
4:00 – 4:30
Human Anatomy and the Promethean ActivPanel
Presenter: Megan Mayo
Session Description: Leverage some of the most current AR technology to view different systems of the human body in 3D, then use the Promethean apps to make interactive activities and games to practice this new information!
Science
4:00 – 4:30
Merlyn Mind
Presenter: Merlyn Mind
Session Description: TBC
Technology
4:30 – 5:00
Build your Neighborhood
Presenter: Leanne Akerman
Session Description: Demonstrate that using ActivInspire teachers can use Google Maps/street view to inspect a plot of empty land in a neighborhood. They can then use Activinspire Drag a copy to design a building. Teachers can take lesson and transport it to Classflow to send out to student devices. Students design buildings, and calculate area/perimeter. If time, can use compass and ruler in classflow to design a pool and calculate circumference/ are of pool.
Engineering, Math
4:30 – 5:00
CHA-Ching! Making Money Make Cents
Presenter: Anna Tressler
Session Description: Attendees will learn the tips and tricks of how to take a basic lesson and transform it with Promethean's applications. This session will cover how to incorporate each app on panel to enhance communication, collaboration, and creation in your classroom.
Technology, Math
4:30 – 5:00
Math Magic: Slow Reveal Graphs on Your ActivPanel
Presenter: Meaghan Greene
Session Description: Want to get your math students talking about data? In this session we will see an example of a Slow Reveal Graph, an engaging instructional routine that promotes discourse to help students make sense of data. The Promethean ActivPanel is the perfect tool to boost student engagement, so join this session to learn the magic of the Slow Reveal Graph and how easy it is to build the lesson on your ActivPanel!
Math
4:30 – 5:00
Soundwave Art
Presenter: Ryan Thornton
Session Description: Have you ever FELT sound? I bet you have. If you've ever put your hand in front of a speaker and felt the vibrations, you've felt sound! Sound is made up of soundwaves, and just like waves in the ocean, sometimes these waves are big, and sometimes they are small. But not only can you FEEL soundwaves, but you can SEE them too! And to be honest, they are super cool looking. In this session we will make sounds that create soundwaves, capture the visual of that soundwave, bring it into the Promethean whiteboard, and make it into art that you can hang on your wall (or at least email to a friend). Thus proving that music is not only beautiful to the ears, but to the eyes as well.
Science, Technology, Arts
5:00 – 6:00
STEAM Forward Keynote
TBD
6:00 – 6:30
Tic Tac Flow
Presenter: Samantha Woodburn
Session Description: This session will demonstrate a fun review game using ClassFlow and the Spinners app to identify key terms. Using terms from the body systems as an example, the presenter will go over an easy technique to send participants Bingo or Tic Tac Toe Cards that they can personalize to play the game using ClassFlow. Then, we will use the Spinners app on the ActivPanel to play the game.
Science
6:00 – 6:30
AR/VR & Screenshare
Presenter: Melissa Schneider
Session Description: Augmented reality (AR) and Virtual Reality (VR) bridge the digital and physical worlds. They allow you to take in information and content visually, in the same way you take in the world. AR dramatically expands the ways our devices can help with everyday activities like searching for information, shopping, and expressing yourself. VR lets you experience what it's like to go anywhere — from the front row of a concert to distant planets in outer space.
Technology
6:00 – 6:30
Next Level Labs
Presenter: Amanda Carlson
Session Description: Learn how to harness the potential of your ActivPanel as a collaborative tool for students to share captured data and collaborate on analysis in real time. From sharing student screens and work to timing chemical reactions, learn how the Promethean Classroom Essential Apps- the Timer, Spinner, Whiteboard, Capture, Annotate and ScreenShare app can transform your Science Lab!
Science, Technology, Engineering
6:00 – 6:30
Subitizing with Promethean Whiteboard
Presenter: Abigail Southard
Session Description: As our students develop number sense, subitizing is one of the most important skills that they learn. Subitizing is the ability to look at a small group of objects and instantly know how many objects there are without counting individually. Help your students develop stable mental images of quantities up to 5 with these Promethean Whiteboard activities!
Math
6:30 – 7:00
Playing with Colors!
Presenter: Amanda Goodman
Session Description: Using ActivInspire or the Whiteboard app (depending on timing to determine my access to a Panel) to teach the concept of primary vs. secondary colors and color mixing. We will use different tools such as translucency, spinners, math tools and more (dependent on access again to a panel) to choose and overlap colors and reveal new ones!
Arts
6:30 – 7:00
Computational Thinking Made Easy
Presenter: Beth Portree
"Session Description: Computational Thinking might sound like it is only suited for a computer science class – but don't be intimidated by it's title. Any grade level and content area can use this important cognitive process to identify patterns, break down their parts, and repeat important processes – which is why it's included in the ISTE standards for students (1.5). Whiteboard can make teaching this concept – and the metacognitive process in which this concept is used – so easy by increasing interaction, engagement, and modeling so students can transfer this process across grade levels, contents, and in to their adult lives.
Technology, Engineering
6:30 – 7:00
Art for the Science and Math Teacher (or Science and Math for the Art Teacher)
Presenter: Julie Porter
Session Description: Art and Science are natural partners! We will explore many classroom art activities that are based in science, pulling largely from a new book: Science Art and Drawing Games for Kids. Whether you want to use art to demonstrate science concepts or science to inform an art project, this session will give you loads of ideas!
Science, Arts
6:30 – 7:00
Huffing and Puffing with Fairytales and STEAM
Presenter: Gretchen Weiland
Session Description: Leverage the fairytales you are already reading with your little ones and your Promethean panel to create STEAM activities in your classroom. Allow everyone in the class to see designs being built and tested by using your camera on your phone and Screen Share!
Science, Technology, Engineering, Arts, Math
7:00 – 7:30
Travel on land or air: Virtual Field Trips
Presenter: LaKeesha Burroughs & Kelly Bishop
Session Description: Students will go on a virtual field to a zoo with the teacher. Students will obtain information and answer questions about different animals in the environment using a Classflow activity!
Science, Technology
7:00 – 7:30
Collaborate With Your Students to Create Engaging Science Visuals in the Whiteboard
Presenter: Elyse Langer
Session Description: Learn to create stunning, artistic, "crowdsourced" visual representations of abstract scientific concepts with your students utilizing Promethean ActivPanel apps such as Screen Share, Screen Capture, and the Whiteboard. We will explore sample topics commonly taught in science classes (For example: ranges of the Electromagnetic Spectrum, the structure of systems in the universe, molecular movement in various states of matter…) and create a collaborative, artistic depiction of one of these topics together!
Science, Arts
7:00 – 7:30
Scientific Inquiry in a Gamified Learning Environment
Presenters: Sophia Isaac, Erin Haber, Kalie Stayskal
Session Description: Are you curious about how to incorporate your ActivPanel to equip your student to be science-based thinkers? Our STEAM session will laser focus on scientific inquiry, incorporating differentiated instruction for all learns to be engaged in gamified learning environment.
Science
7:00 – 7:30
Design a Tiny House for Your Favorite Character
Presenter: Sheila Wolsker
Session Description: Everyone loves the concept of tiny houses, right? Why not design one based off your students favorite character? Combine language arts skills (character traits) with math skills (calculating square footage) to create a tiny house that symbolizes your students favorite character. Watch how the Whiteboard, Spinner, Timer, and Screen Share can take this activity to the next level!
Science, Technology, Engineering, Arts, Math
7:30 – 8:00
STEAM Forward Wrap Up
Just us as we wrap up our fifth annual STEAM Forward event from the Promethean STEAM Lab!