A good education is one of the cornerstones of our lives and our society. When parents send their children off to school, they trust that they will receive a high level of education. It is so important that we have a government body dedicated to maintaining high standards in schools across the UK.
The Office for Standards in Education (or Ofsted) inspects and reports on schools, grading them as outstanding, good, requires improvement or inadequate, based on a range of factors.
Here at Promethean, we are dedicated to improving the quality of learning with our interactive displays for education, and wanted to find out how far education has come and which areas are improving the quality of their schools the most.
We looked at the most recent Ofsted reports from public schools, excluding trusts and private educational establishments, as well as reports from the previous report date to see where schools are improving and where they are not.
The areas with the highest rated schools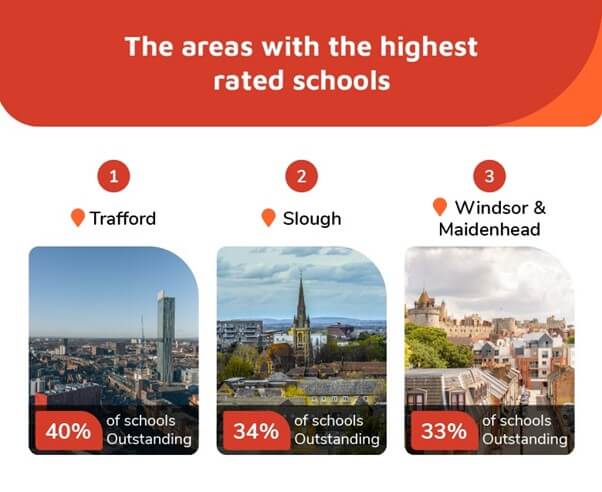 Trafford – 40% of schools outstanding

The metropolitan borough of Greater Manchester ranks the best in terms of the highest rated schools. According to the most recent reports, 37 of the area's schools are ranked as outstanding by Ofsted, equalling 40% of their schools. However, despite having the highest percentage of outstanding schools, the number for Trafford has actually decreased from 42 schools in the previous reporting period.

Slough – 34% of schools outstanding

Slough doesn't follow too far behind with 34% of their 51 schools rated as outstanding. This is an increase from the previous period with two more schools receiving an outstanding grading.

Windsor and Maidenhead – 33% of schools outstanding

Next, we have Windsor and Maidenhead with 33% of schools receiving an outstanding rating. This equates to 22 of 67 schools, remaining consistent with the figures from the previous period.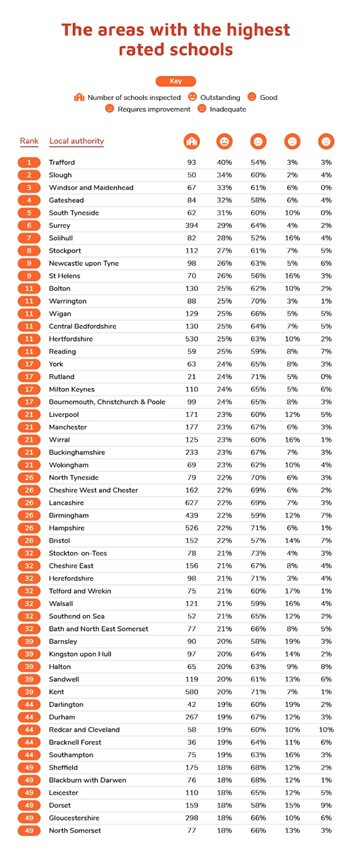 The London boroughs with the highest rated schools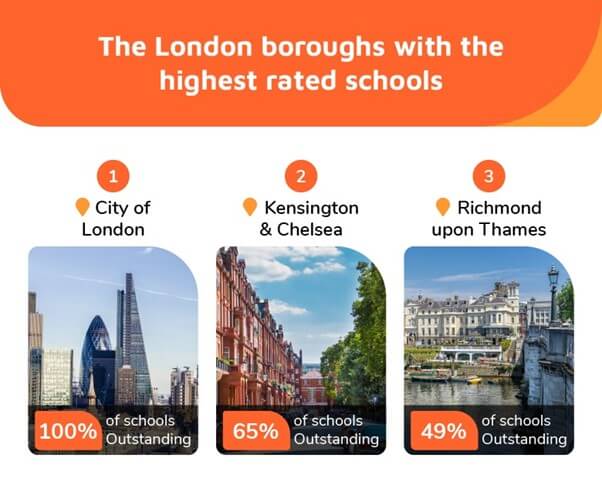 City of London – 100% of schools outstanding

There is just one relevant school within the City of London, but as this school is ranked as outstanding, this gives the area a 100% rate of schools achieving the highest grade in Ofsted inspections.

Kensington and Chelsea – 65% of schools outstanding

Placing second is Kensington and Chelsea, a borough which has recently improved school ratings so 65% of the 40 schools in the area are rated as outstanding, an increase of two schools since the last reporting period.

Richmond upon Thames – 49% of schools outstanding

Following with 29 'outstanding' schools is Richmond upon Thames. With a total of 60 schools, this equates to 49% receiving the highest rating from Ofsted.

The areas where schools are improving most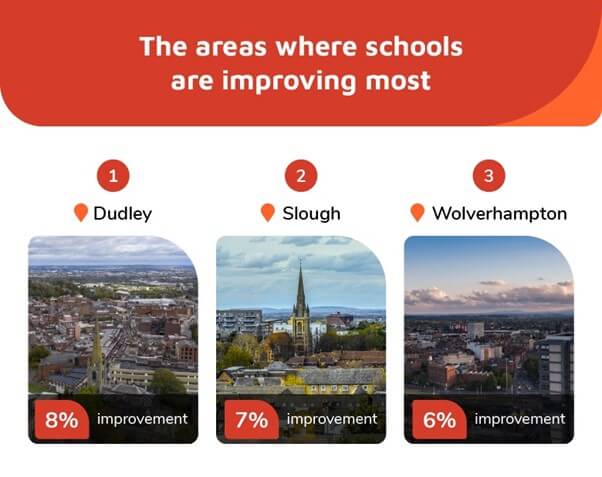 By assigning a score from 1-4 for each Ofsted rating we were able to give a total score for each area for the two time periods. Comparing these two scores, we can calculate the overall difference to discover where schools are improving and raising their rankings.
Dudley – 8% improvement

With 107 total schools within the region, Dudley is improving the quality of these schools at the highest rate, with an 8.33% overall improvement. While Dudley has maintained eight outstanding schools compared to 11 in the previous period, the number of schools rated as good has increased from 63 to 76.

Slough – 7% improvement

A good proportion of Slough schools rank as outstanding, with 17 of their 51 schools receiving this ranking, up from 15 schools in the previous period. Their rankings have increased overall by 7.41%.

Wolverhampton – 6% improvement

Schools in Wolverhampton have seen a great improvement in recent years, with the number of outstanding and good schools increasing while the number of schools receiving the lowest ratings has decreased. Overall, they have increased in rankings by 5.5%.

The London boroughs where schools are improving most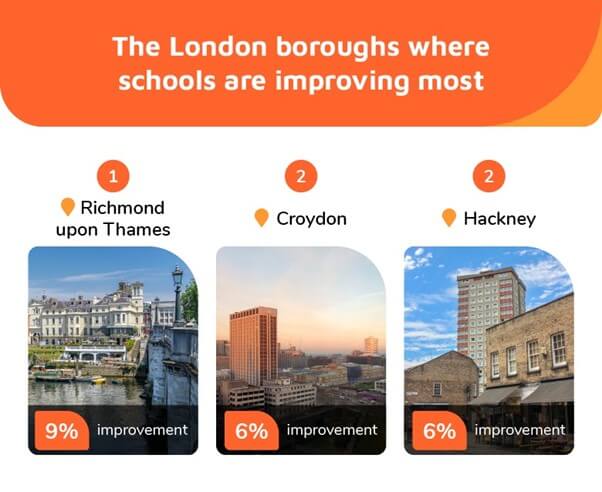 Richmond upon Thames – 9% improvement

When it comes to the London boroughs that are improving the most, Richmond upon Thames sees the biggest increase of 8.91%, both increasing the number of schools receiving the highest rating and raising the two schools that were previously ranked as inadequate to higher ranks.

Croydon – 6% improvement

Croydon previously had 17 schools graded as requiring improvement, but after raising the ranks of their schools by 5.85%, just nine schools remain in this category.

Hackney – 6% improvement

In third place is the London Borough of Hackney, which has 81 schools with an improvement rate of 5.7%. In the most recent reporting period, five more schools were classed as outstanding compared to the previous period.

The areas with the highest spending on education
Schools rely on funding from their local councils so they can offer a high quality of resources in order to give children the best education. When we look at the funding set aside for education in each area, compared to the number of schools, we can see how much money is available if that money was divided equally between each school. The following figures were sourced from the government website's collection on Local authority revenue expenditure and financing.
UK locations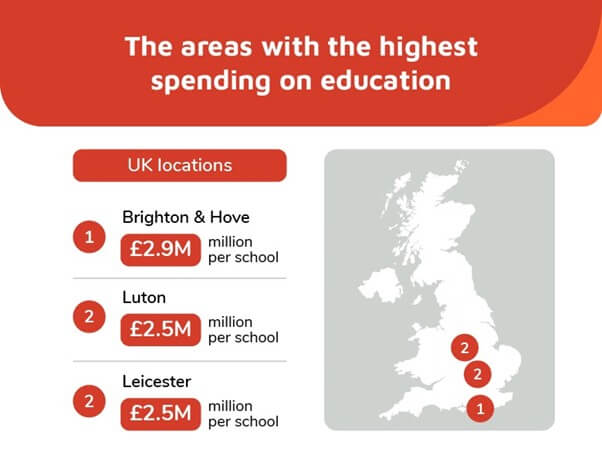 Brighton and Hove – £2.9 million per school

Luton – £2.5 million per school

Leicester – £2.5 million per school
London boroughs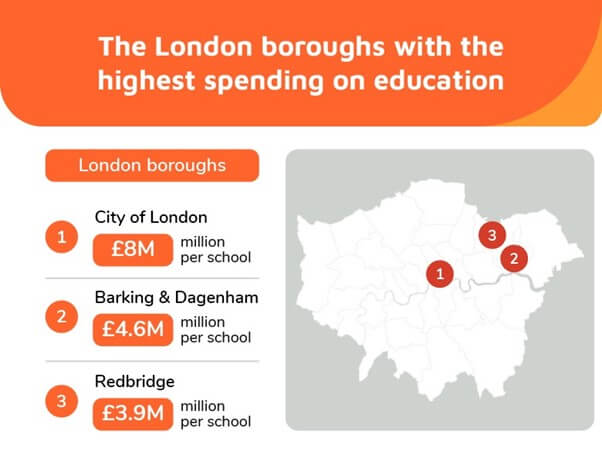 City of London – £8 million per school (

Only relevant one school in this borough)

Barking and Dagenham – £4.6 million per school

Redbridge – £3.9 million per school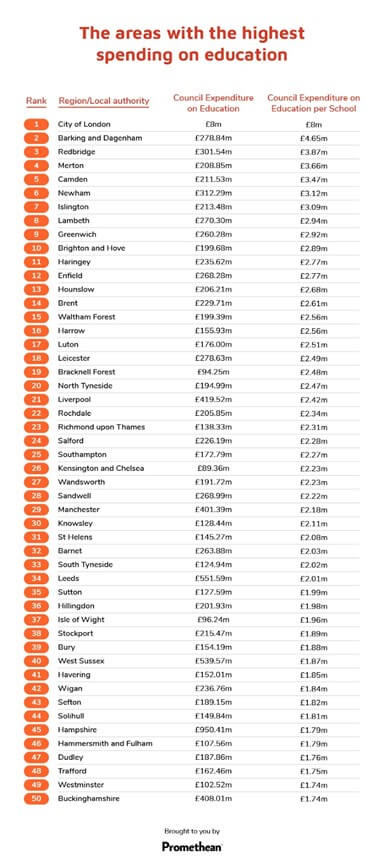 Methodology:
Council expenditure on education is taken from the official government website.
Ofsted ratings are taken from the official government website also, giving the outcomes of school inspections as of 31st March 2021 and comparing them to the most recent previous inspections.
When looking at the most improved areas, we assigned a score to each ranking, outstanding equalling 4, down to inadequate equalling 1. This allows for schools to be compared to one another, yet does not account for the possible variation between schools with the same Ofsted rating, for example in terms of performance or student experience.
A total was taken of these scores in order to give a score for each reporting period in each area. When these scores were compared, we can see hypothetically which areas have seen the most improvement.

Conclusion
To summarise, Trafford is the area with the most schools rated outstanding, identified by Ofsted as providing the highest quality education and care for their learners. Slough has many schools rated outstanding by Ofsted and is one of the most improved areas in the UK in terms of public educational institutions.
In London, Richmond upon Thames is the most improved area for Ofsted ratings, while the City of London spends the most on education, although it only has one public school.
A good education is essential for young learners' development inside and outside of the classroom. Tools such as interactive displays are designed to increase classroom engagement and optimise learning. The Promethean ActivPanel interactive display brings learning to life in the classroom. With features like device mirroring, screen sharing, unlimited whiteboard space, Bluetooth connection to lab devices and much more, teachers and students will reap the benefits immensely. Let us help you create a fully engaged classroom. Schedule your FREE live demo with a Promethean expert today!