This year, Promethean celebrated 21 years of exhibiting at the world-renowned education technology show, Bett, with its biggest and most exciting presence to date. On stand SN41, Promethean welcomed attendees to experience the ActivPanel Elements Series and learn more about Promethean's educational partnerships that have been forged to support the wider integration of technology into the curriculum. Beyond the exhibition floor, Promethean hosted world class speakers in the Excel's Platinum Suite and even welcomed international delegations at a local school that is going the extra mile when incorporating edtech into its curriculum.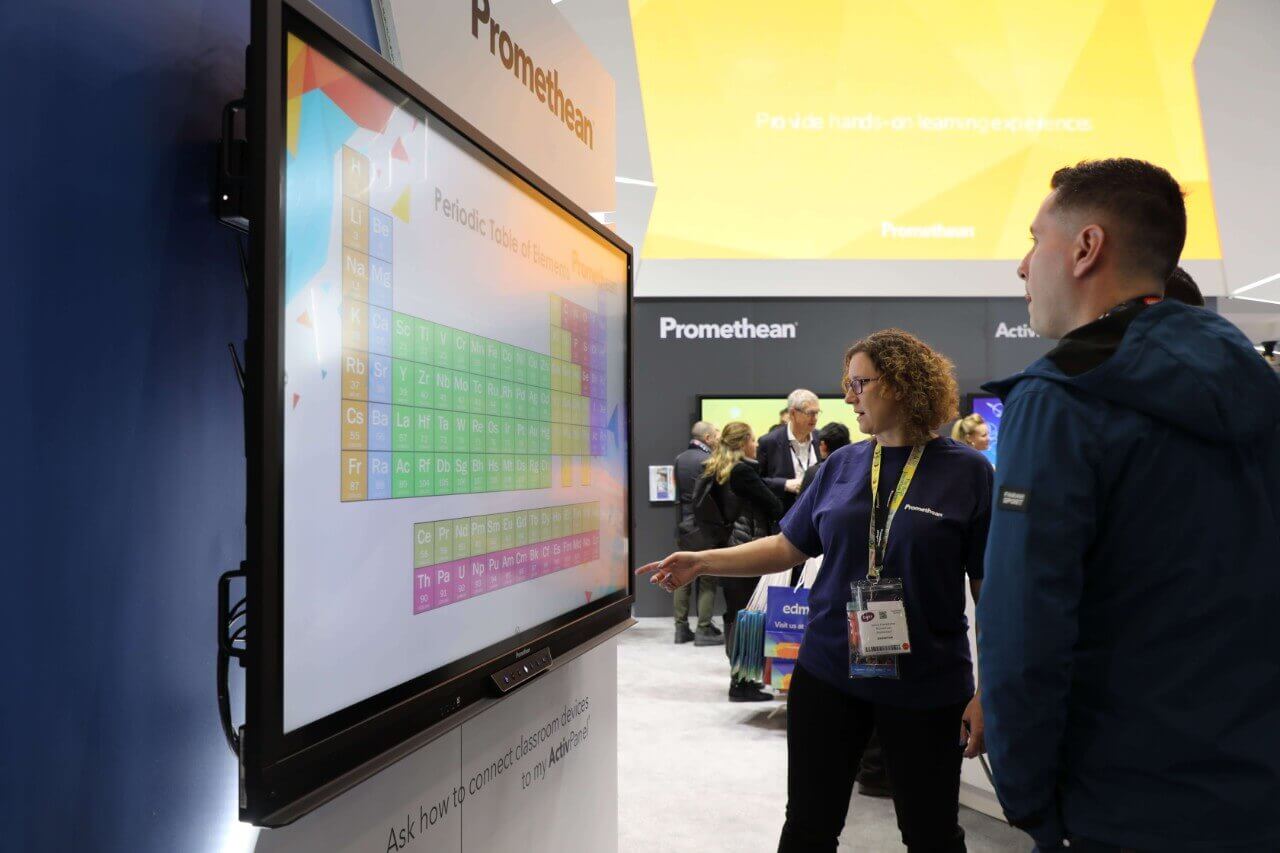 Experience the Elements
Debuted on stand for the very first time, the ActivPanel Elements Series captivated visitors at Bett. Designed by teachers, for teachers, the ActivPanel Elements Series is all about making teaching with technology even easier. Created to enhance learning environments and revolutionise classrooms for educators and learners, the ActivPanel Elements Series focuses on the little things that make a big difference in the classroom.
The ActivPanel Elements Series provides teachers with simplified use, advanced connectivity, and exclusive Vellum™ technology that delivers a unique writing experience that is as natural and seamless as putting pen to paper.
The Value of Powerful Content
On stand, Promethean and its partners demonstrated the full potential of the ActivPanel Elements Series to create immersive learning spaces that ultimately improve student outcomes. Promethean content partners; The Learning Partnership, BecomingX, the BBC and the National Literacy Trust, were all welcomed to Promethean's on-stand classroom area to demonstrate why engaging content and edtech are so important.
Promethean's exclusive STEAM (Science, Technology, Engineering, Arts & Maths) partner, The Learning Partnership, is supporting Promethean by encouraging the engagement of students in STEAM subjects with an exclusive bank of time saving resources that can be enhanced through the use of the ActivPanel. Mark Robinson from The Learning Partnership used the ActivPanel to teach students from Four Oaks School about aerodynamics before building and racing rocket powered cars on stand as part of the 'Race to the Line' challenge. The Learning Partnership's STEAM education "To the Line" challenge series supports students aged 8-14 access real world, team based, creative design experiences that map to the real world of work and develop 21st century skills.
"Using the Algadoo app on the ActivPanel we were able to use the sensitive touchscreen to design our car to measure how it would perform in a race on stand. After designing it on the ActivPanel we then built and raced it against the adults on stand and our car won! It was very interesting to see the Bett Show and a lot of fun being on stand with Promethean creating and racing our rocket cars," commented Daniel, a Year 5 student at Four Oaks Primary School.
Beyond STEAM subjects, Promethean has also developed a partnership with BecomingX to help teach children 'what it takes to succeed' and become more resilient. Students and teachers from Baines School joined Promethean at Bett to share their knowledge of the skills and attributes needed to be successful using the ActivPanel as a tool to record these characteristics.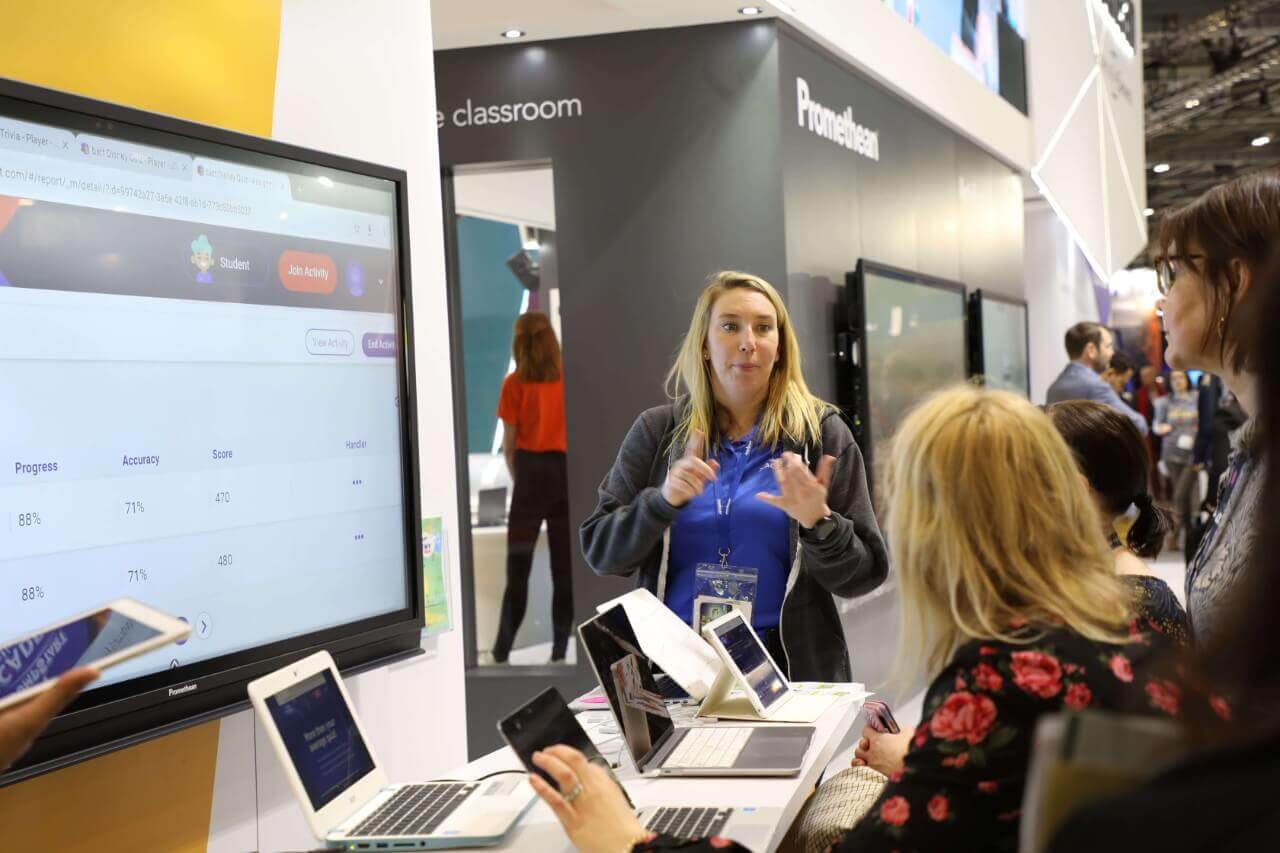 An Insight into the Teaching of Tomorrow
Promethean invited education thought leaders such as Education Futurist, Tony Ryan, Headteacher Stephen Holden and CEO of BecomingX, Paul Gurney, to deliver insightful seminars in the Platinum Suite. The forward-thinking sessions evaluated how teaching might be further improved, from new teaching concepts like 'Unchained Teaching' to exploring education futures and how pupils perceive the world they live in.
The Platinum Suite also played host to the 'Intelligent Classroom' for the very first time in the UK. In partnership with Promethean, the Egyptian Government has agreed a landmark edtech strategy that will see new modular classrooms constructed on-site in a matter of days and equipped with modern learning technologies. The strategy was born from a demand for more classrooms in Egypt and standardisation of educational offerings. Visitors to the Platinum Suite were able to see first-hand what the new 'Intelligent Classroom' looks like and hear from Promethean's Dr John Collick how it will revolutionise education estates in Egypt.
Bett is a truly international event welcoming delegations from all corners of the world to demonstrate the very best of edtech solutions. As part of the event agenda, Promethean invited Ministerial delegations to London Design & Engineering UTC as a shining example of a school that is positively integrating edtech into its curriculum to enhance the learning experiences and skills sets of its students.
Following a guided tour of the forward-thinking school, Vusal Khanlarov, Head of the Bureau on ICT for Education, The Republic of Azerbaijan Ministry of Education, said: "The integration of technology into teaching is a strategy which we are already adopting in Azerbaijan, so we welcomed the opportunity to explore how other schools are developing digital best practice. The partnerships between industry and education at London Design and Engineering UTC are remarkable, and inspired by our visit, we are now exploring a longer-term partnership to bring this approach to our schools."
We do it for Education
For Promethean, Bett is an opportunity to emphasise positive integration of school edtech, not just through hardware, but through software, resources, support and sharing of best practice. Promethean was founded on an ambition to improve learning experiences with educational value at its core. Over 20 years later, Promethean remains committed to this same ethos, working closely with educators to create edtech solutions that meet their direct needs – and at Bett will continue to be a major opportunity to showcase Promethean's love of education.
Ian Curtis, Promethean Head of EMEA & Asia Pacific Markets, concluded: "Year on year we deliver an exceptional schedule of activity at Bett and this year has been no different. Bett is the flagship event on the edtech calendar and we use this as an opportunity to showcase the best of Promethean. Not only have we brought to stand the ActivPanel Elements Series for the first time, but demonstrated our continued commitment to education by introducing some of our new UKI content partners and sharing edtech best practice.
"I'd also like to take this opportunity to thank the teachers, school children and our Promethean Advocates that join us at Bett each year to champion teaching with technology and show how edtech can be used to transform learning spaces."
Find out more about the Promethean ActivPanel Elements Series here.