Welcoming upwards of 1 million guests every year, The Odyssey Trust is a charity based in Belfast, Northern Ireland. In 2022, it launched W5 LIFE – Learning Innovation For Everyone, a 20,000-square-foot facility designed to promote inclusion and diversity through immersive STEM-based experiences.
Not everybody thrives in the traditional curriculum and school environment. For some, a more immersive and interactive setting is what brings their abilities to life, which is exactly why W5 LIFE in Belfast was set up.
Committed to making learning accessible to all, its 32 facilitators aim to provide broader access to skills training. This training leads to exciting career paths and employment opportunities, with a continual focus on those who have become disengaged from mainstream learning techniques.
Flexible technology for a flexible space
Six classrooms in the flexible learning space can be joined together to create one large conference-style setting that accommodates 90 students. To demonstrate to visitors that technology will be at the core of all future work, W5 LIFE has invested in six Promethean ActivPanel displays to deliver a wide variety of learning experiences.
The two 86-inch and four 75-inch panels can function individually in classroom settings or, when the space is arranged in an open-plan format, be connected to form a larger system for group events.
Conor McKay, learning centre lead at W5 LIFE, said the adaptability of the ActivPanel was one of the many reasons the technology was selected for the space.
"One of the great things about the W5 LIFE space is that it's entirely changeable, and we need our technology to fit around that. With the ActivPanel, that's exactly what we get."
To maximise flexibility, the space can feature two panels set up to welcome visitors, with the other four in different breakout zones for activities. "They wirelessly connect to our Surface Pro devices, so students can move around different working groups and use the Screen Share app to cast their own activities, designs, or findings on the ActivPanel," McKay said. "It feels like modern learning for them and means we can keep a clean and tidy space free of wires."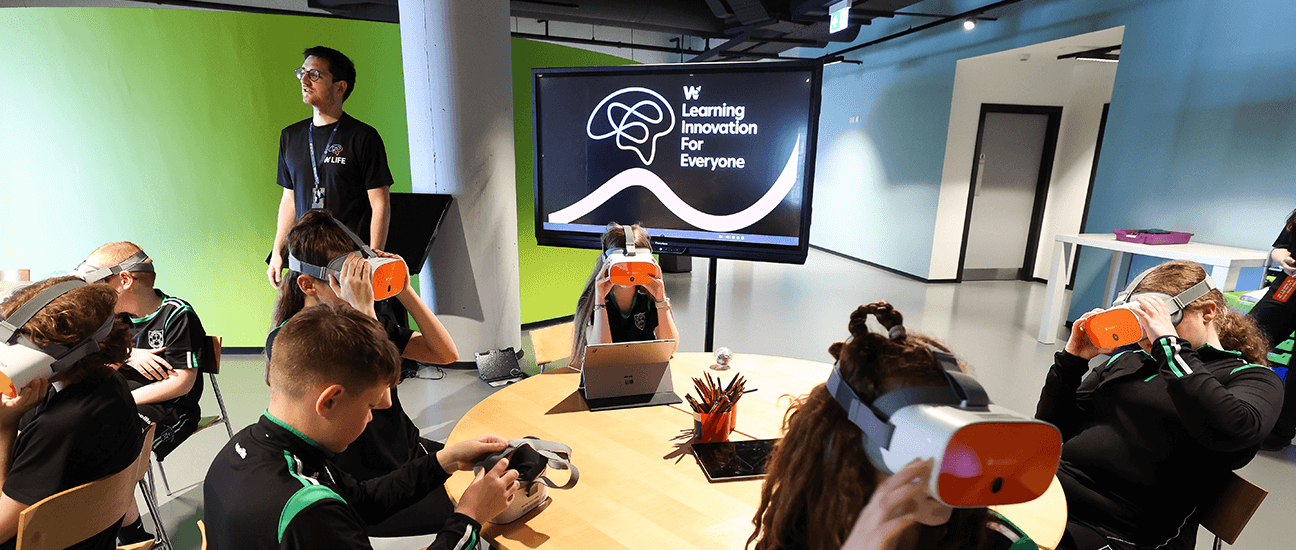 Unique learning experiences
Since opening its doors, W5 LIFE has facilitated a wealth of transformative learning opportunities, for which Promethean's ActivPanel has proven itself valuable.
W5 LIFE welcomes pupils under the umbrella of Northern Ireland's new shared education initiative and encourages them to work as teams in a set of timed challenges using the preloaded Timer app on the ActivPanel.
When young pupils applied their coding knowledge to devise an earthquake alert system, the Whiteboard app and split-screen functionality allowed them to work collaboratively, easily sharing their innovative ideas.
A three-day STEM "Passport to Inclusion" course saw local female students participate in activities to develop coding and digital skills, and learn how they can be applied to support the Northern Irish economy. Using their roaming Promethean profiles, facilitators accessed their personalised settings and resources quickly and easily, no matter which classroom or breakout zone they worked from.
"Our aim is to use technology to get anybody, and everybody interested in STEM subjects so that they one day go on to choose IT as their career of choice," explained McKay. "Working with Promethean, we're able to feel the energy and excitement technology has on young people."
Local support from Promethean is crucial for effective ActivPanel use. "We have a fantastic local Promethean trainer on hand to share new features and train team members when needed," McKay said. "It makes the whole experience seamless, which is what we need when ActivPanel plays such a crucial role in what we do every day."
With a vision to continue building on the Promethean partnership throughout The Odyssey Trust, McKay said it's easy to see why Promethean's panels are the preferred technology in Northern Ireland.