Award makes East Ayrshire first local authority to achieve coveted status in Scotland
The William Mcllvanney Campus in Kilmarnock has been awarded ambassador status by global education technology company, Promethean, in recognition of a commitment to embedding and disseminating digital best practice in education. As the first ambassador site in Scotland, this recognition will see East Ayrshire set the benchmark for local authorities to raise educational standards through the effective use of technology.

"To be the first ambassador site in Scotland is a wonderful achievement by the William McIlvanney Campus," Councillor Elaine Cowan, East Ayrshire Council's Cabinet member with responsibility for education and skills, lifelong learning, and culture, said. "I am delighted to offer my congratulations to David Rose, Lorraine Dougan, and the whole team, who have worked to ensure that Promethean technology is embedded throughout the whole campus and that our children and young people are given every opportunity to reach their full potential."

Stuart Fraser, Head of Celtic Regions, Promethean, commented on the achievement. "This is a huge testament to the commitment we've seen from East Ayrshire to continuously drive improvements and innovate with digital strategies over many years. We're extremely proud to be awarding William Mcllvanney Campus ambassador status and look forward to building on our partnership even further."

The Promethean ambassador award is part of SLA Accord, a focused programme that empowers Scottish local authorities to align digital strategy with pedagogy, equip teachers with key skills and confidence, and ensure edtech investments benefit the learners of tomorrow. Having successfully met the ambassador programme criteria, which included 16 teachers achieving certified trainer status across Kilmarnock Academy, James Hamilton Primary School, and the Gaelic School – Sgoil na Coille Nuaidh, the site will now be a beacon of best practice for East Ayrshire and throughout Scotland.

David Rose, head teacher at Kilmarnock Academy, explained what achieving ambassador status means for the campus. "The programme has been part of the wider campus improvement plan. We will now use the training to further embed and enhance the use of Promethean technology throughout the campus which we hope will transform learning to be much more immersive and interactive," he said.


"It also means that we now have a common and united consistency in approach to utilising the technology. This consistency of expectation backed up with expert training means that we can realistically have very high expectations of learning using technology, increase leadership of our learners, and of course provide excellent leadership for our staff."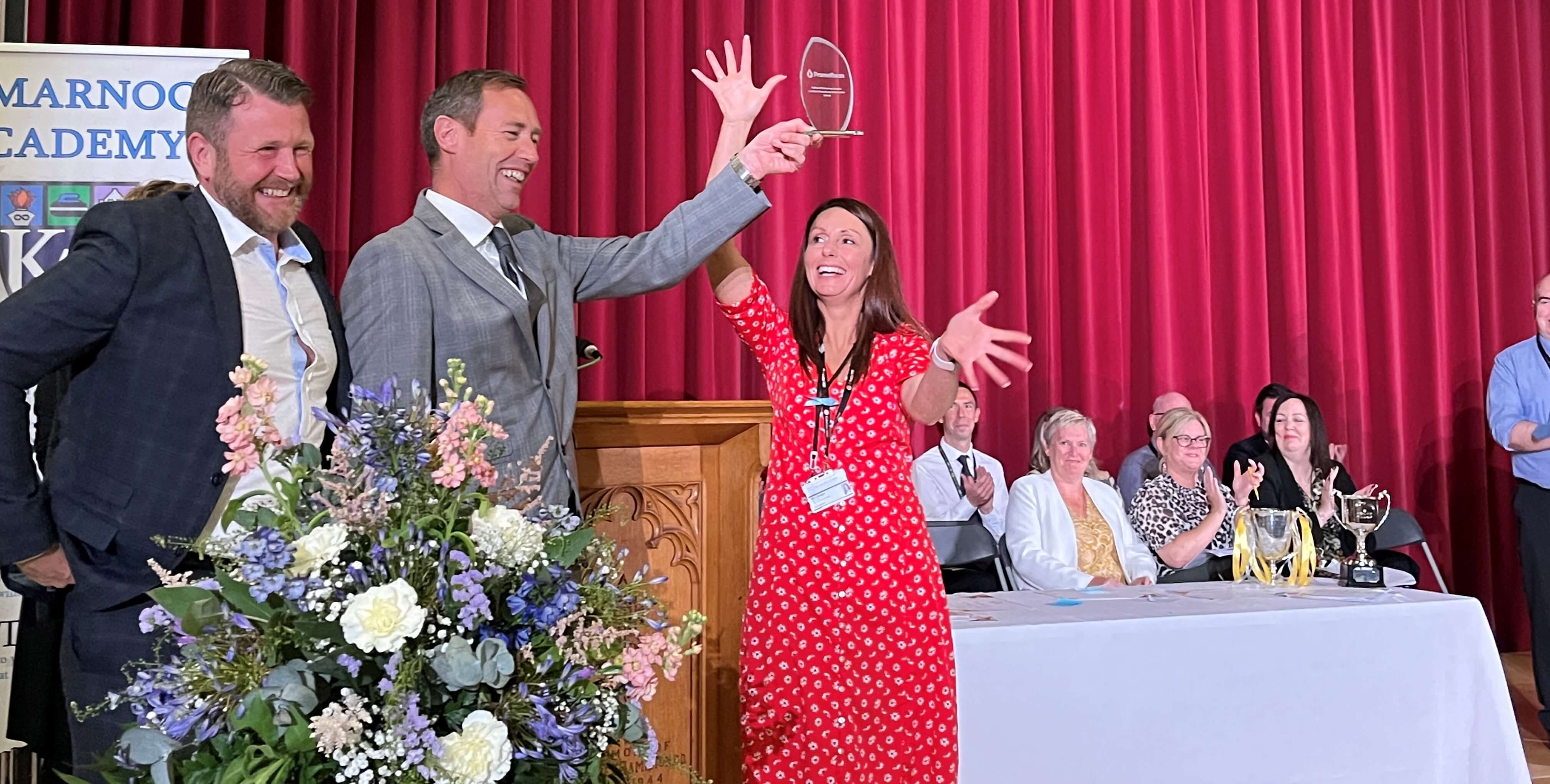 Lorraine Dougan, head teacher of James Hamilton Primary School, Sgoil na Coille Nuaidh and Sgoil-Araich na Coille Nuaidh, shared her perspective on the accolade. "We strive to provide the best learning experiences for our young people and support our staff in being able to deliver this. Being a Promethean ambassador campus allows us to continue to use the variety of software and panels that Promethean offer to create innovative, immersive, and engaging teaching moments for our pupils," she said. "The staff have been dedicated to further developing their own knowledge and skills over the last year as we worked as a team to receive this recognition – and it's a fantastic achievement to be the first in Scotland."

Teachers and students welcomed Promethean to their annual 'Celebrating Success' event at Kilmarnock Academy on Thursday 8th June, where David Rose and Lorraine Dougan were presented with a commemorative award and the company's latest interactive display, ActivPanel 9.

As an ambassador site, William Mcllvanney will help pioneer innovative ways to use the ActivPanel 9, sharing best practices with Promethean and teachers throughout the country.

A presentation ceremony was also held for the 16 teachers who have become certified trainers under the ambassador programme. Bethany McGrath, a certified teacher, said "I don't know what I am more excited about. All the new digital skills we can now share, or the fact we've been awarded a new ActivPanel 9 in recognition of our achievements! In all seriousness, everyone has worked so hard to make this possible and it's such a positive end to the school year. Massive thank you to the Promethean team for all their support and to everyone across the campus – this was a real team effort."
To learn more about the SLA Accord and the certified trainer course, click here.