Promethean – For the love of learning
What's your #ClassroomStory?
Do you remember your first day of teaching? The best piece of advice a colleague gave you? Your biggest achievement as a teacher?
We are calling all educators with a passion for teaching, the hunger to inspire, and a story to tell. We want to hear about all the amazing memories you have, the things that have shaped you into the teacher you are today, the things you have done for the love of teaching.
In the lead up to, and for the duration of Bett, Promethean will be running a competition that invites educators to share the love of education – with the chance to win an ActivPanel interactive display. To be in with a chance of winning, submit your inspiring, funny or motivational memories with the hashtag #ClassroomStory on Facebook, Twitter, Instagram.
Promethean judges will select the winning entry shortly after Bett.
Don't miss this opportunity to win the latest education technology whilst sharing memories that could inspire the next generation of teachers. Bett visitors are invited to come and submit their stories with us on stand B98 in our very own video booth, we'd love to hear your #ClassroomStory!

Visit Promethean at Stand B98 at London ExCel on Wednesday 23rd January – Saturday 26th January 2019
For over 20 years, learning has been, and always will be what fuels our passions throughout Promethean. Bett gives us the opportunity to showcase our latest technology and meet educators from around the world to discuss the ever-changing world of education.
Promethean's combined hardware and software solutions are designed to transform learning spaces into collaborative and connective environments, promoting student participation and engagement, and providing access to limitless interactive teaching and learning resources.
We will be showcasing the latest ActivPanel and our team will be on hand to demonstrate functionality that enables the ActivPanel to become the hub of any classroom.
We look forward to seeing you on our Stand B98. Register for your free place at Bett here.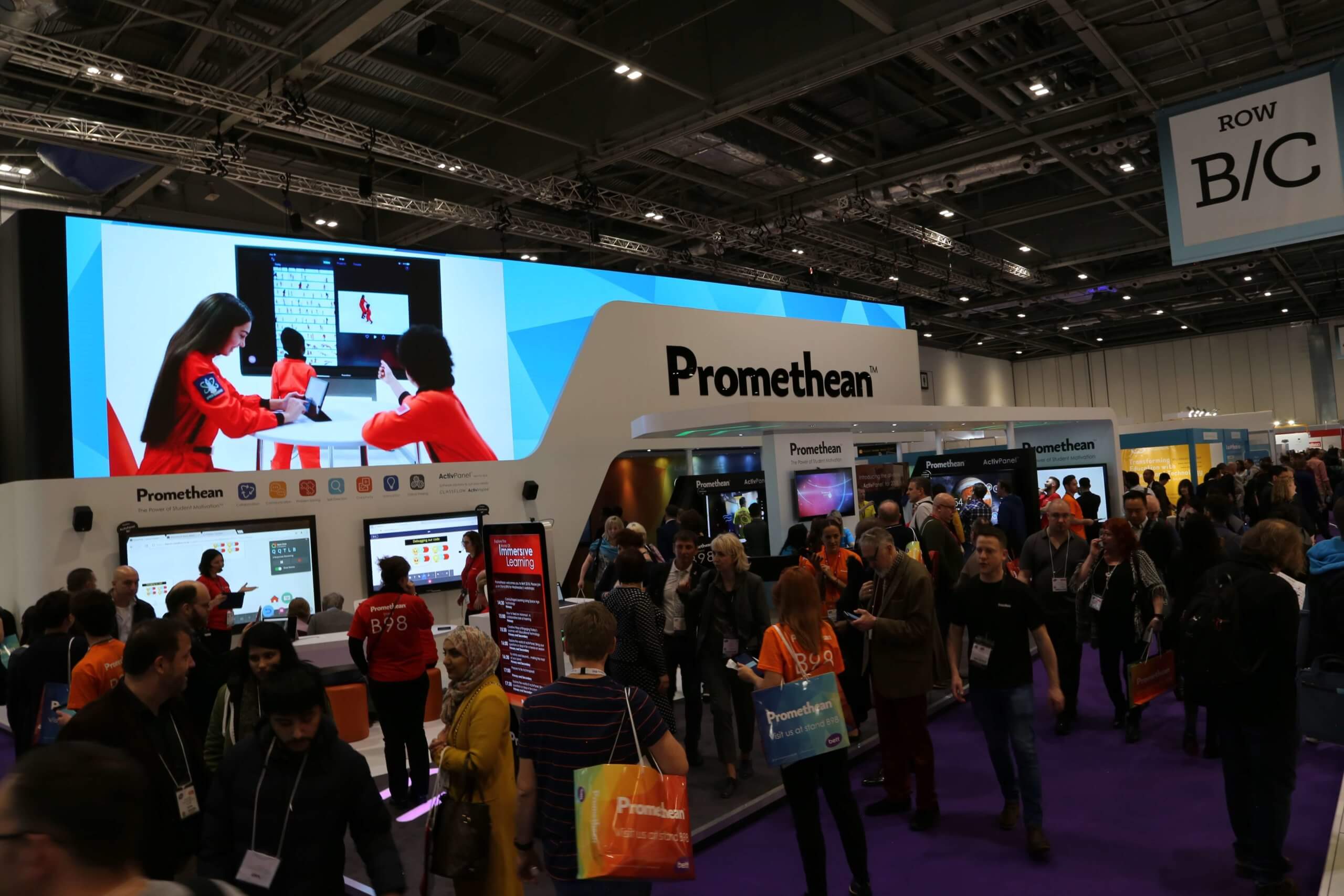 What's happening on stand B98
Teachers
Promethean will be hosting a series of presentations on stand B98 from teachers who are passionate about innovating with technology and showing you some of their favourite lessons using tech.
Learn about the opportunity to receive the latest edtech for your classroom by sharing your #ClassroomStory in our on stand video booth.
Be the first to hear about exclusive product news – including the unveiling of our latest range of ActivPanels and an exciting announcement about ActivInspire!
IT Professionals
Our experts will be on-stand B98 to advise on how you can align edtech with your wider ICT strategy.
Our much-loved Promethean Grant returns in 2019 with a revamped approach. Learn about the opportunity to enhance the educational environment of your school with the latest edtech.
Be the first to hear about our latest range of award-winning ActivPanels.
SMTs
We'll have our experts available to talk to you on stand B98 about leveraging the potential of education technology in your school.
Get new edtech for your school (for free) – our Promethean Grant returns in 2019 with a different approach. Learn about the opportunity to enhance your school with the latest front-of-class technology.
Be the first to hear about our new exclusive product news for 2019.
Promethean Partners at Bett
Promethean is on hand at stand B98 to give you the full Promethean experience, but as a manufacturer we only sell our products through our trusted network
of partners. If you are ready to discuss pricing, some of our partners are here at Bett:
Atomwide on stand D260
ELMO / Elementary Technology on stand D121
European Electronique on stand C251
XMA on stand E240
Alternatively, click here and we will refer you to a partner.
Sharing International Advances in Pedagogy
Chess has long been a popular game in Russia, but quite recently educators in Moscow have started to untap the potential the game has to boost attainment. Research has suggested the critical thinking skills learned when practising chess have contributed to increases in attainment levels.
Last year, the Minister of Education of the Russian Federation, Olga Vasilyeva, announced chess lessons should be part of the curriculum of every school. The data gathered as part of her report suggested that in some regions, strong chess schools saw academic performance increase between 35 and 40 per cent. In Moscow, teachers have begun chess training, and it is hoped that by 2020 every school in Moscow will be teaching children to play chess.
At the end of 2018, Promethean partnered with Sergey Karjakin, the world's youngest Chess Grandmaster, to launch the 'Promethean Grandmaster Challenge' in Russia, a competition to find teachers who are innovative and creative in their ways of teaching chess using technology. Having learned to play chess from the age of five, Sergey Karjakin holds the record for the world's youngest ever chess grandmaster, having qualified for the title at the age of 12.
Sergey and a delegation from Moscow will be at Bett sharing educational insights from Russia on how chess can play a fundamental part in learning. Visit stand B98 to learn more.
Stand C105
Edmodo is the world's leading global education network and provide communication, collaboration, and PD tools for all members of the school community with over 90 million members. JumpStart Academy brings learning-based games to classrooms with JumpStart Academy Math and JumpStart Academy Coding.
Visit Stand C105 to see these exemplary platforms in action and hear from educators delivering strategy and fact filled presentations.