The classroom as we know it has changed—technology plays a bigger role than ever before.
Our technology makes creating engaging and accessible lessons that bring out the brilliance in everyone simple by empowering teachers, connecting colleagues, and inspiring student breakthroughs. Discover a new standard in innovative education technology and together, let's do something brilliant.
For over 25 years, we've partnered with teachers, IT professionals, and administrators to understand their needs and create powerful, accessible edtech solutions that engage students, spark their imaginations, and create the kind of a-ha moments that lead to real breakthroughs.


Edtech solutions used in over 120 countries

ActivPanel used in 1.7 million classrooms worldwide
Let's do something brilliant
When you choose Promethean, you get more than just a technology provider—you get a true partner. Our complete, end-to-end, seamlessly integrated solution includes hardware, software, professional development, and support.
ActivPanel
Collaborate and connect with ease thanks to our simple and intuitive user interface
Experience highly accurate touch detection that delivers a natural writing experience with our exclusive Vellum writing technology
Use preloaded teaching tools to easily capture and crop images, draw and annotate over content, and add excitement to any activity with the Spinner and Timer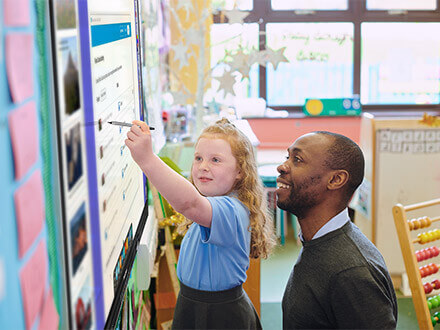 ActivInspire
Unlock the full power of ActivPanel with lesson delivery software designed by teachers, for teachers
Leverage tried-and-true activities and robust creation tools that make content more immersive
Access 30,000+ free flipcharts in the Promethean Resource Library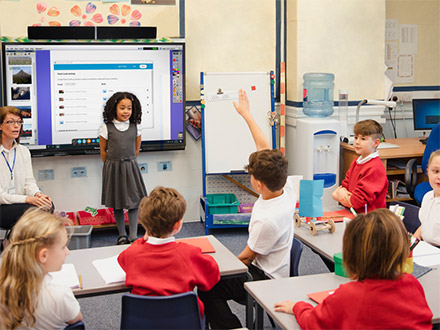 ClassFlow
Empower remote and hybrid learners to achieve more with cloud-based teaching software that delivers real-time interaction
Increase student engagement with instant polls, activities, and assessments sent to student devices
Test comprehension with dynamic quiz options and reward student achievement with digital badges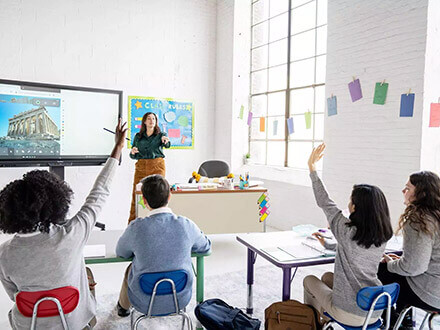 Panel Management
Manage your devices with Promethean's secure solution or take advantage of our exciting partnership with Radix
Give administrators the confidence that their ActivPanel interactive displays are secure
Ensure teachers always have access to the latest Promethean firmware, software, and apps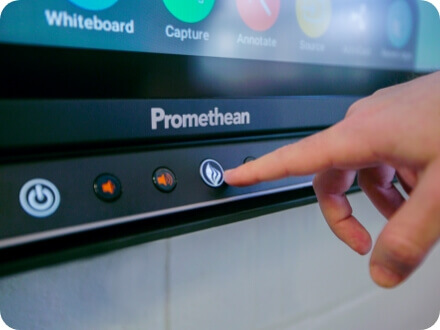 Professional Development
Access thousands of ready-made resources for Promethean products through the Promethean Resource Library
Attend energizing live events to learn new skills, connect with other educators, and deepen your edtech acumen
Take advantage of our signature consulting program to partner with a Promethean Education Consultant with a passion for putting you in command of your interactive displays and software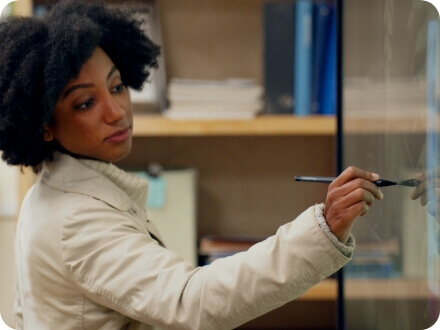 Empowering classrooms of the future
In this new era for education, the landscape of classroom technology has changed.
We partnered with teachers and administrators to learn more about the role of technology in K-12 schools and what their biggest concerns are—from training to health and safety to the digital divide. Check out what we discovered and how it applies to your school.
76%
of teachers believe technology helps them do their job better
83%
of teachers agree technology should be incorporated in lessons
71%
of teachers believe technology plays a crucial role in making top-level decisions
77%
of teachers agree that edtech is a great way to engage students

Discover Promethean for yourself.
discover Promethean for your classroom with a free demo from our team.